The first tag sale of the day was, to say the least, disheartening.
It was a multi-family disaster complete with stained baby clothes that went out of vogue fifteen years ago, a bunch of discolored dollar store food storage containers, an aquarium with a brown and green ombre slime ring, and, wait for it, a rusted gut buster. A gut buster! But you know what the kicker is? They had the audacity to mark it $20, "Price Firm."
Oh no they didn't!
Oh but they did.
There was also a big blob of play dough in assorted, mushed together colors in a clear plastic tub…that was filled with condensation. Oh. So. Gross.
I rolled the heck outta dodge and sashayed on down the street to a church tag sale where I found a box of little plastic houses. There are nine different huts, and all of them were only 50 cents.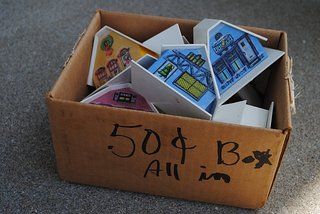 They're actually part of a vintage Alpine Christmas village lighting set and what's neat is that are already multiple holes in the back so they'll be easy to hang on the wall. I already have a crafty revamp in mind for them!
Speaking of revamps, at the same sale I came across two lovely framed flower arrangements from the 1970s. The dried flowers were glued to a piece of beige burlap which was only enhanced by the stunning matte gold frame and plastic domed cover. They were marked $2.00 each and for a mere $4.00, I still paid about $3.99 too much for the duo. Yet I knew they could be saved! And thus, I ventured home, all the while tinkering with fun ways to take these puppies into the twenty first century.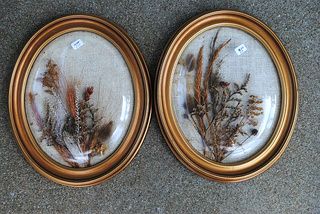 A few hours later they were looking much better.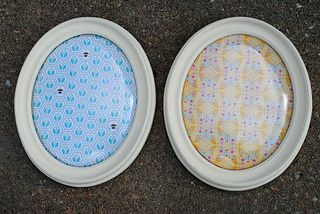 After painting the frames a matte cream, I removed the dessicated shrubbery and replaced it with some lovely decorative papers by Basic Grey. They came kinda cute and the colors match the kids bathroom perfectly! The only change I'm going to make is to repaint the frames a high shine, glossy white so they "pop" a little more. It's hard to tell from the photo, but since the plastic is domed, it gives the print underneath a bit of dimension. Yay.
Off to go tinker with the swanky little houses…stay tuned!