One of my best friends is, surprise surprise, an avid thrifter.
The best part is, we have totally different tastes and interests, so there is never competition. My "thing" is seeking out all sorts of vintage goodies, especially costume jewelry, old books, craft items, salt and pepper shakers, fabric, quilts and "smalls." She prefers more modern items, especially useful kitchenware, household items, Christmas ornaments and decor. The one thing we both agreed on last weekend was that we had better high tail it to one of our favorite rummage sales early before all of the good stuff got scomped up!
Right when we arrived I found some bright, jaunty fabric. Love this one! And it was only a quarter for a little over a yard.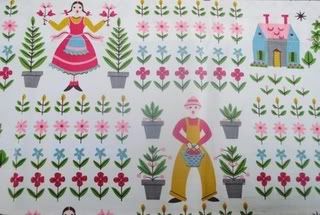 This was 25 cents, too.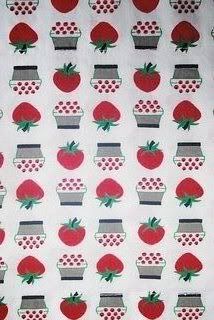 So was this!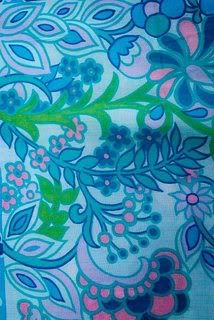 Then I found a 1940′s knitting booklet.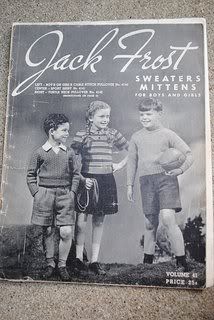 And another one for DIY mittens and gloves.
The jewelry table proved fruitful as well. My first find was this enamel flower pin.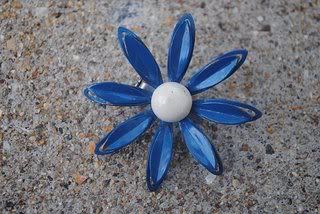 A trident broach.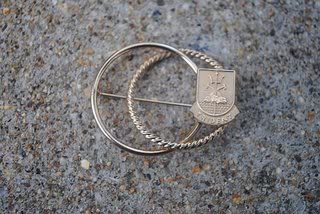 And my favorite find of the day, a deco bracelet in excellent condition for just $1.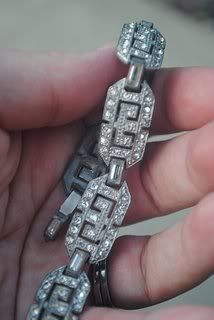 This ring is marked 18k gold! And those just might be diamond chips on the sides. But here's the clincher….it looks like someone crudely glued poor quality faux beads into the two large settings. What the heck, who does that?! I should probably thank them though, since this was just tossed into the dollar bin with a bunch of costume jewelery.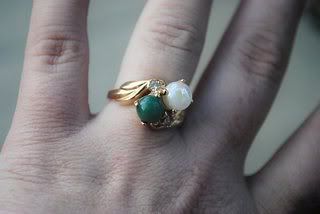 When I finished jewelry shopping it was off to the housewares section, which was really was pretty impressive. There were four filled to the brim rows of tables. This old screw top mason jar spoke to me for some reason.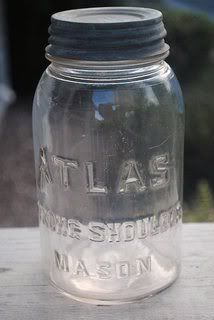 So did this candy dish, marked "Royal USA."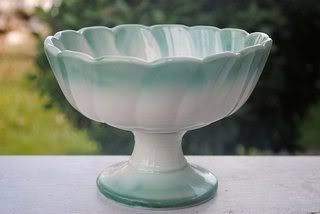 This Napcoware dog was calling my name for 50 cents. It's already housing my new lipstick plant.
Another planter.
This is actually a vintage cookie jar that I turned into a planter since the top was amongst the missing.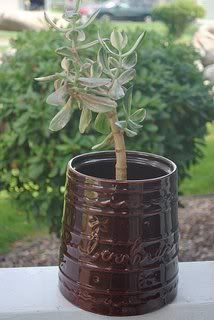 And that, web chums, is what I found. My friend had a fruitful morning as well. Not only did she get a lovely glass syrup dispenser and some Christmas decorations, but she also bought two watches. Later on she found out that one of them retails for fifty bucks and she only paid two dollars. Best of all, the battery still worked!
Fast forward to this Saturday. I got up early and rolled to an estate sale in my town.
They had mostly pottery and dishes, though there was also some sort of nice but overpriced small furniture, artwork and knick knacks.
The jewelery section was small but well laid out, and I knew I'd find something.
Like these nice clip earrings, which I often use as shoe clips to temporarily decorate my piggie covers.
Another pair.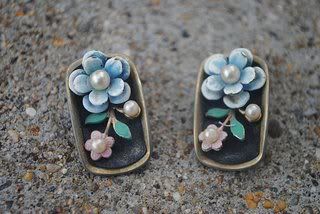 And one more.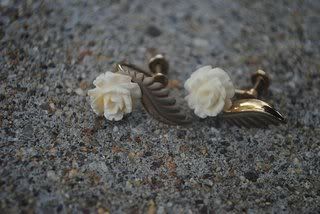 A sparkly, mid-century ring.
A very long string of real pearls. They're hand knotted and quite fetching, especially the clasp. The seller told me that they belonged to his Mother in Law, who always wore pearls every single day, "even before Barbara Bush made it popular." Heh.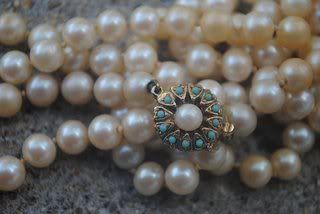 Cute little doggie pins.
An unusual necklace, that I suspect is probably from the 1970s.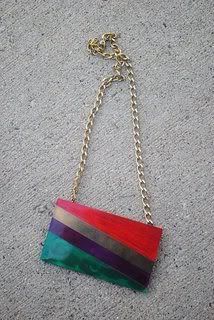 And last but not least, a beautiful pair of mod, wooden bracelets.
PS – I've joined the swell link parties at Southern Hospitality and Apron Thrift Girl.