Despite the fact that it's already the middle of December, I'm *still* lamenting the fact that tag sale season is over. Of course, there are still estate sales now and again and the ever-popular holiday bazaars. And thrift stores. Though with two small children, my visits to all of the above are few and far between these days. But somehow I've managed to go on a few excursions anyway.
And now, for my most recent finds….(insert drum roll here).
Old Santa Heads from an estate sale. They'll be cute for some sort of crafts project.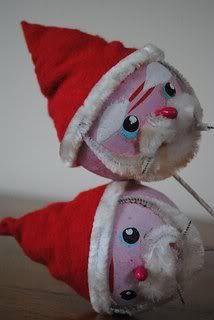 Also found Three Wise Men by Shackman, made in Japan. One looks like he got into a brawl with a cat. But the other two survived unscathed.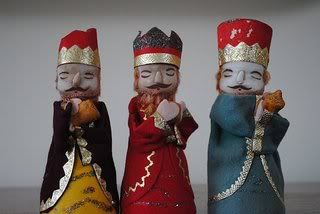 Vintage Santa Mugs. Think these will be great as planters.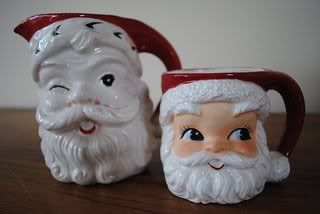 But best of all, this odd little vintage holiday display piece with a reclining gnome!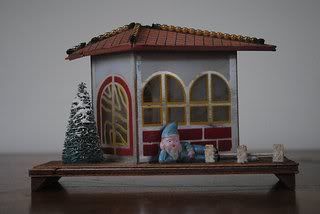 A few weeks after the estate sale my Mom came to visit and we slid to an Antiques mall. She wound up buying me this awesome retro Pyrex dish! I adore it, and am so excited to have my first blue Pyrex piece.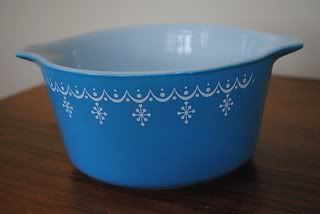 She also got me these adorable Pyrex Fridge jars that I have been swooning over for a while now. They're much cuter and more fun than using plastic tubs for food storage.
A week later I found these lovely jam jars by Commodore of Japan at the same joint. They're very similar to the Holt Howard pixieware of the day. And if you can believe it, they were only $1 each and on the clearance table because the jam spoons inside are broken. But since I'm only using them for display, it doesn't matter to me anyway. I just love how the mustard looks seriously really pissed off at the ketchup for reasons unknown.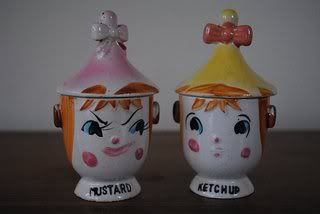 Also found a cute slot machine bank from the 1970s.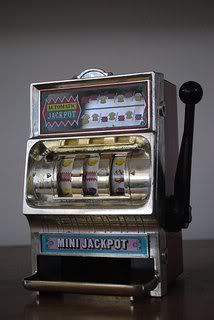 And last but not least, a bunch of lovely quilt blocks from long ago and far away. The first photo shows two sets of blocks, both depression era. The colors are fantastic, and I can't believe they're in such good condition given their age. Not sure yet what I'll make with these, but I'm thinking perhaps a lap quilt or wall quilt?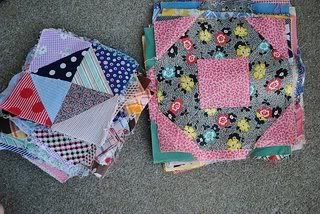 I also came across some amazing star quilt blocks that were surprisingly affordable. There are twenty of them, these photos only show a few. All are intricately hand sewn and I think they're just beautiful! Can't believe that no one scomped them up before I did…must come up with some special way to display them. I'm almost thinking about maybe taking them apart and framing just the star portions? Could make a charming hallway collage.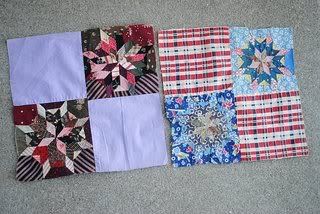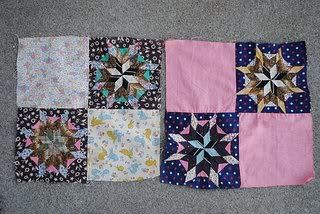 Joining the thrifty link parties over at Apron Thrift Girl, Her library adventures, Hey Mom What's For Dinner, and Knick of Time.