While reading Craft one afternoon I came across a post about the "Crafty Chica Challenge: Garden Glam" contest which is sponsored by Craft and ilovetocreate.com. In a nutshell, the goal was to come up with a spiffy garden themed craft. Since crafting and gardening are two of my favorite things in the whole world, I had to give this one a whirl. And so, inspired by the old school concept of "memory vases" from long ago and far away, I covered an inexpensive planter top to bottom with new and vintage goodness. Everything from old beads, buttons, charms and trinkets to rhinestones to broken jewelery, religious trinkets, game pieces, plastic toys and the like. It came out super sparkly and kitschy, which was exactly the effect I was going for.
At an angle…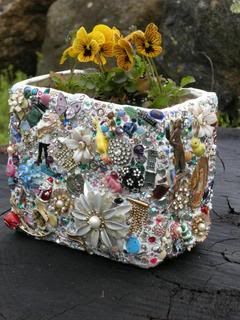 And close up of one of the sides.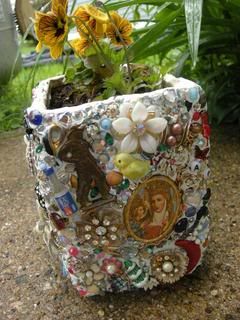 I have no idea when they are going to announce the winners, but I have my paws crossed cause I could really use one of the prize packs of crafting goodies to keep the inspiration rolling along. You know know it goes.
In other news, I ordered a pack of ring blanks today! Can't wait to start whipping up some funky pieces with vintage and or handmade resin components. While I'm waiting I may start working on some fancypants bobby pins. Stay tuned!